Somnox realizes 5 million nights of sleep
ROTTERDAM - Somnox achieves the milestone of logging more than 5 million nights of sleep. This is aligned with the company's impact goal of making better sleep accessible to a wide audience.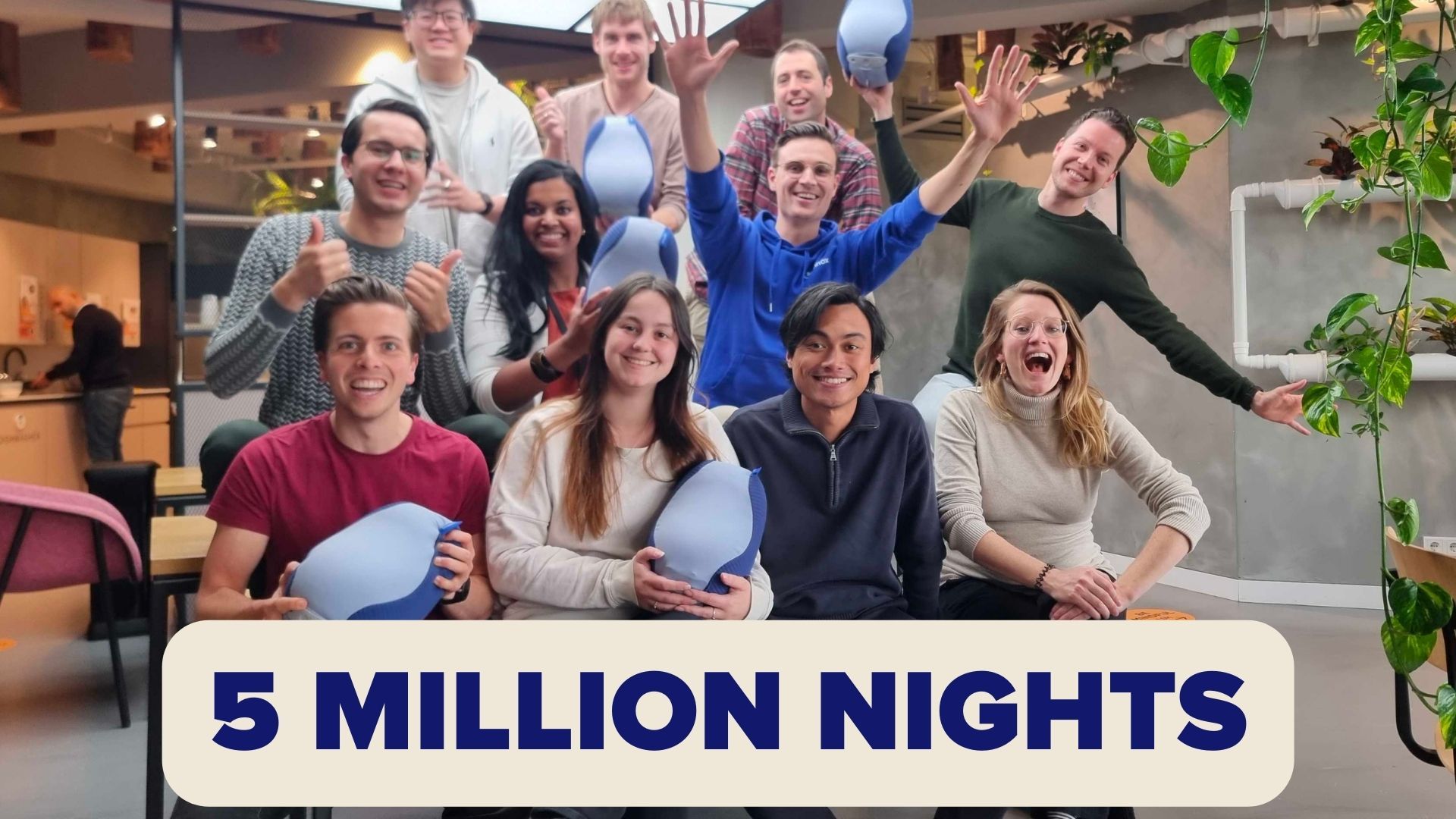 Somnox is known for the Somnox Breathe & Sleep Companion, an innovative device originally conceived at the University of Technology Delft. The device simulates calm breathing, allowing poor sleepers to fall asleep naturally using sensors. In 2019, the first generation of the sleep solution, the Somnox 1, was launched and since November last year, the second generation has been on the market. Meanwhile, 20,000 poor sleepers at home and abroad have already benefited from the innovation.
"This is an important milestone in our existence as a company. Helping people sleep is our goal and to be able that in a data-driven way is great. Not only for the outside world, but also to attract talent and communicating our purpose. You know as a team why you do what you do." - Stijn Antonisse, co-founder & CTO Somnox
5 million nights
Since then, Somnox has achieved 5 million nights of sleep in three years. User data shows that a large majority of sleepers still sleep with the sleep robot every night.
Sleep researchers agree: a good night's sleep is essential. Almost a quarter of Dutch people aged 25 and older had sleep problems in 2018, according to a CBS survey. Young people also often sleep too short and badly, which affects their brain development. Worrying, sleeping late due to homework, and media use are the main causes (source: Brain Foundation). And yet sleep is so important for your daily functioning and health. Long-term sleep deprivation increases the risk of obesity, Alzheimer's disease, depression and cardiovascular disease.
Even though more and more people are sleeping worse and shorter - we sleep 20% shorter on average than we did a century ago - the importance of good sleep remains too often underexposed. A relaxed brain is the most important thing for good sleep. Worrying and negative thoughts prevent us from relaxing (source). Somnox's sleep robot was developed to address precisely this problem by harnessing the relaxing power of breathing in a simple way.
"Somnox's calm breathing helps reduce busy thoughts and feelings of stress, which for many is the biggest roadblock to a healthy night's sleep," said Julian Jagtenberg, Somnox co-founder & CEO.
Positive impact on sleep and stress
To increase the impact of the Somnox on sleep quality, the company regularly conducts quantitative and qualitative studies among their users. Recently, the first scientific study on the impact of Somnox 2 on experiencing sleep problems and stress was completed in collaboration with sleep scientist Roy Raymann. In it, the positive impact of sleeping with Somnox on sleep and stress is significantly confirmed.
83% of users wake up at night less often
74% experience less stress
98% of participants experience fewer sleep problems
Sleeping with Somnox 2 thus seems like a natural solution to improve sleep.
"The stories we hear back give us goosebumps. From police officers with PSTD who are finally able to sleep again, children with nightmares or menopausal women who want to reduce their sleep medication. Sleep is such a fundamental thing - it determines the quality of your life. In this respect, there is a special story behind every client. We get out of bed for that. Together with our community, making good sleep accessible in a natural way." - Julian Jagtenberg, co-founder & CEO Somnox
The road to 100 million by 2030
It is a small step in the company's larger mission. Ultimately, the goal is to help 100 million people sleep by 2030, and more is needed to get there. Efforts include sharing knowledge around sleep, breathing and mental health through channels such as Instagram and TikTok (somnox.sleep), as well as various innovations that will also need to appeal to other audiences. For example, the sleep subscription was recently launched - Try & Buy - where the possibility is offered to try out the tool for €34.95 per month.